(270) 885-5686
1079 N Main Street
Hopkinsville, KY 42240
Map It
Tire Replacment - New & Used
Do you need tires? Here's how to tell: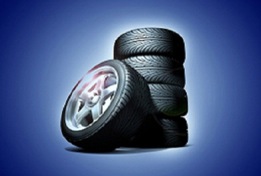 All tires look pretty good when viewed from the side. But the important part is the part that's hard to see, the tread. As they used to say, "where the rubber meets the road". Hint: It's easy to look at the tread on the front tires. Start the engine. Turn the steering wheel all the way until your can't turn it any more. While holding the steering wheel, turn off the engine. With the tires pointed to the side, you can clearly see the tread.
All of those little edges and angles on the tread helps the tire grip the road. But the most important function of the tread is to give water a place to go when you drive on wet roads or hit a puddle. If the water can't get out of the way, you drive over the water in stead of through the water and now you're water skiing. That's called hydroplaning and you have no longer have control of the direction your vehicle want to go. It's just as bad as driving on black ice.
By law, the tire is considered worn out when the tread depth is 1/16". In fact, that minimum is so important, tire manufacturers are required to mold in small places that are 1/16" shallower than the surrounding tread. When these "wear bars" or "tread wear indicators" are even with the surrounding tread, the tire is by officially worn out. But, at 1/16", there is little place for the water to go. It's much more prudent to replace the tires when there is 4/32" ( 1/8" ) of tread left. More cautious people replace their tires at 5/32". By the way, you can't cheat on this. If the tire tread is worn unevenly, go by the area of the shallowest groves. After all, there's no way to remove the rubber from the less worn areas and stick in on the most worn areas.
Let's face it. Most people know little about tires. The girls admit it. They guys fake it. Regardless of gender, If you want to learn more about tires in general, See "Polly's Blog: A Woman's Guide to Buying Tires". Yeah, good info for guys too... we won't tell!
WE SELL NEW AND USED TIRES. Are you interested in a used tire to get you by until you can afford a full set of tires? If so, here's a thought. Why not decide what new tires you want and just buy on now. Later, buy 3 more, one at a time if you have to. That way you'll end up will a full set of good tires.
WE HAVE OUR FAVORITE BRANDS OF TIRES. Over the years, we have learned which tires work well and which tires are just so-so. Thus, when we are asked to make a tire recommendation, we have our favorites. However, if you have a brand preference, we can get almost any tire. Some of the brand names are listed below.
So, if you think you may need tires and want someone to give you an honest opinion and knowlegeable recommendation, bring your vehicle to Clearview Tire & Auto Service for a correct diagnosis and professional guaranteed repairs which includes our Certified Auto Repair Nationwide Warranty. We're in Hopkinsville, not far from Ft. Campbell and we've been here since 1952. Most repairs include one year FREE towing and roadside assistance, good 24/7 coast-to-coast.
See our Coupons page for discounts.
---
IF YOU DON'T SEE YOUR BRAND ON THIS LIST, WE PROBABLY CAN GET IT FOR YOU AND SAVE YOU MONEY TOO. JUST CALL, CLICK OR COME BY
AMERICAN PACIFIC / API
ARMOUR
ATLAS
BCT
BF GOODRICH
BRIDGESTONE
CAPITAL
CARLISLE
CMA TIRES
CONTINENTAL
COOPER
CORDOVAN
CROSSWIND
DAYTON
DEAN
DELTA
DUNLOP
DURAMAX
DURUN
FALKEN
FIRESTONE
FUZION
GENERAL
GOODYEAR
GOLDWAY
GREENBALL
GREMAX
GT RADIAL
HANKOOK
HEADWAY
HERCULES
IRONMAN
JETZON
KUMHO
KELLY SPRINGFIELD
LEXANI
LING LONG
MASTERCRAFT
MAXXIS
MICHELIN
MICKEY THOMPSON
MULTIMILE
NANKANG
NEXEN
NEGOTIATOR
NITTO
OMNI UNITED
PIRELLI
PRIMEWELL
PRIMEX
PROCOMP
REPUBLIC
RIKEN
SIGMA
SUMIC
SUMITOMO
SUMMIT
TITAN
TOYO
TRAZANO
TRIANGLE
UNIROYAL
VENEZIA
VOGUE
YOKOHAMA

---
Hours & Location
| | |
| --- | --- |
| Monday | 7:00AM-5:00PM |
| Tuesday | 7:00AM-5:00PM |
| Wednesday | 7:00AM-5:00PM |
| Thursday | 7:00AM-5:00PM |
| Friday | 7:00AM-5:00PM |
| Saturday | Closed |
| Sunday | Closed |