(270) 885-5686
1079 N Main Street
Hopkinsville, KY 42240
Map It
Scheduled Maintenance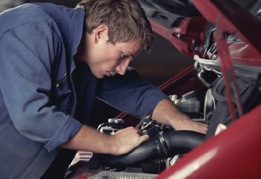 All vehicle manufacturers provide a maintenace schedule. Since no one likes to spend money on there vehicle for any reason, the manufacturers minimize the recommended services. Some necessary maintenance is not even listed. Thus, factory service schudules should be considered a rock-bottom minimum.

More frequent service and performing the services that are omitted by the manufacturer can help extend the life of your vehicle and can help prevent unexpected repairs. And, if you bought your vehicle used, you may have no idea what services have or have not been performed.
To help sort it all out, we will give you a FREE Factory Scheduled Maintenance report. It will:
tells you what services are due now,
tells you what services were due in the previous 30,000 miles (in case you missed them), and
explains in plain english what these services are and why they are needed.
If you need help getting a handle on scheduled service or would like a free Factory Scheduled Maintenance report, bring your vehicle to Clearview Tire & Auto Service for a correct diagnosis and professional guaranteed repairs which includes our Certified Auto Repair Nationwide Warranty. We're in Hopkinsville, not far from Ft. Campbell and we've been here since 1952. Most repairs include one year FREE towing and roadside assistance, good 24/7 coast-to-coast.
---
Hours & Location
| | |
| --- | --- |
| Monday | 7:00AM-5:00PM |
| Tuesday | 7:00AM-5:00PM |
| Wednesday | 7:00AM-5:00PM |
| Thursday | 7:00AM-5:00PM |
| Friday | 7:00AM-5:00PM |
| Saturday | Closed |
| Sunday | Closed |